Oooweeooo Inc. is a 4 person game development studio head quartered in Toronto, Canada.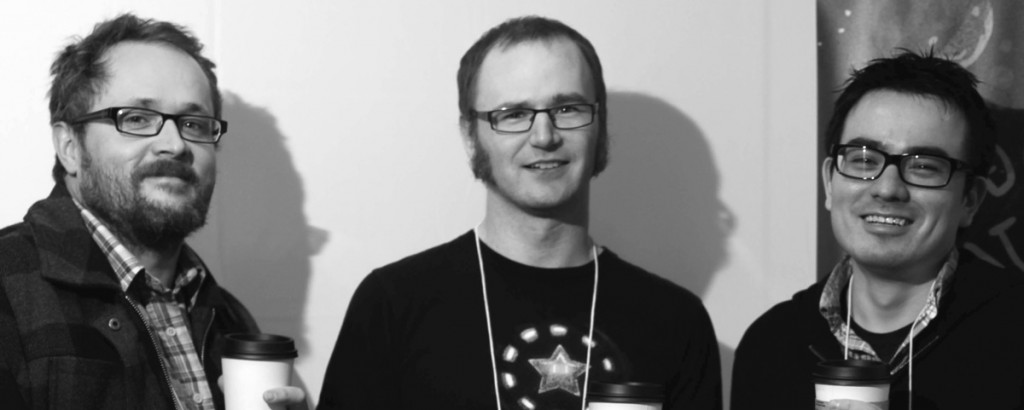 Geoff "Old Man" Scott @geoff_vfx
Geoff spent 4 years at legendary game development studio 'Ninja Theory' working on AAA titles such as Heavenly Sword and Enslaved. Geoff has worked under the Oooweeooo Interactive banner for the past year on titles Greenthumb!, Boom Boats, and Don't Fall in the Hole. Geoff brings with him an additional 14 years of experience in the film industry where he has achieved accolades in visual effects. Geoff's keen artistic eye leads the creative direction for Oooweeooo.
Greg "Zerai" Smyth @oooweeoooi
Greg is a registered Professional Engineer with extensive design experience and an insiders perspective into up and coming mobile device technology. Greg has spent 5 years designing games and prototypes for Oooweeooo Interactive, spearheading development efforts on Boom Boats and Don't Fall in the Hole while contributing to Greenthumb! and Imma Destroy Your Castle. Greg also brings with him experience in research and development, and leads Oooweeooo's software design and development efforts.
Michael "Kero" Kent @mikeakent
Mike has spent the past 5 years creating titles for Oooweeooo Interactive, leading development efforts on GreenThumb! and contributing to Boom Boats, Don't Fall in the Hole, and Imma Destroy Your Castle. Mike has a background in design and technology, with expertise in both user interface design and information technology management. Mike brings with him extensive experience in software and product development, from managing development teams to serving as Creative Director for technology products.
Mike "Asplode" Hwang @mikehwang83
Mike comes to Oooweeooo with a passion for games and a hunger for marketing. Part gamer, part PR, and part social media guru, Mike brings with him a breadth of marketing skills. Joining the team in September of 2014, Mike takes all credit for our recent finalist status for Pixel Garden at the Canadian Video Game Awards. Mike leads Oooweeooo's marketing and social media efforts.